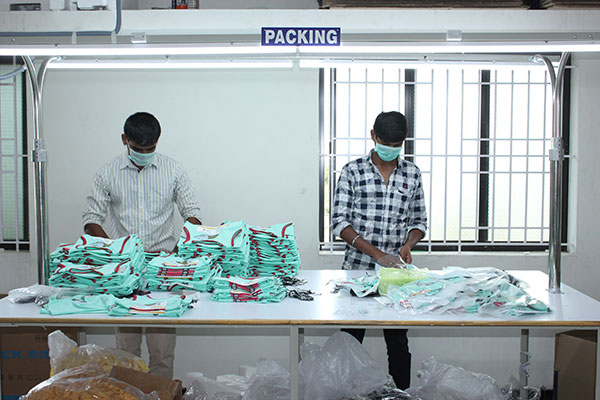 SMS Knits is a full service private label apparel manufacturer from Tiruppur, India.
We have the ability to serve customers as per their expectations
We produce everything as per buyer's design & we do not stock them or resell at our end.
Professionally we are having vast experience which will help our clients in a better way.
We can handle all type of fabrics, prints, embroideries, garment washes, Garment dyeing, etc.
We can handle numerous styles, numerous fabrics, and various processes at a time.
We are unique & we will not think other suppliers as our competitors. We work with customer directly & will avoid working with buying/inspection agencies.
With the monthly production capacity of 30,000 per month we are having a suitable factory, appropriate work force, huge supplier base and subtle environment.
Small Batch Clothing Manufacturers
For us a customer is a customer & we treat everyone with good business ethics. We do not differentiate our approach between a well established buyer with a new small scale buyer
We offer our complete support like designing, drawing patterns, grading size runs, testing the products, sending samples, labelling your private label & packing the product as per requirement which will help small batch clothing buying a pleasant one
MOQ (Minimum Order Quantity)
Every new clothing brand would love to make least minimum order quantities, so that they can have more number of styles in their catalogues but as a manufacturer we are having some limitations owing to minimum processing quantity with our counterparts. The following details will be more helpful while contacting us
Regular Minimum Order qty – The flourishing minimum order qty per style/color will be 500 pcs.
Regular Minimum Order qty – The flourishing minimum order qty per style/color will be 500 pcs.
But for a start ups that came forward with great plan for a long term business- we accept and do the minimum order qty from 200pcs (even with 100pcs on high fashion styles)
Below that 100pcs per style will be considered for few styles in a group of buys like 2 or 3 styles out of 10 styles
Below details will help a buyer to plan a group of styles which will reduce cost of buying.
Example: For doing 500pcs bulk production, we have to do FIT samples, PP samples, Size set samples & a photo shoot samples in different intervals. These samples will be 25pcs, but it consumes 50pcs of raw materials & 100pcs of work time. Even if we charge that 25pcs only, it will have 5% overheads on it. Suppose if a client orders 100pcs only, these samples will cost around 25% over heads.
Fabric limitations: Minimum qty per color will be 125 kgs, less than that will be considered as sampling. For fabrics with elasthane it will be 180kgs For fabrics with yarn dyed stripes & jacquard design, minimum qty will be 200kgs.
Style/Color Limitation: We can do even 100pcs per color for a style if it meets our style minimum and fabric minimum (in a group of buys). Qty not meets will have fabric up charges & Trims up charges.
Style/Color /Size minimum: 25pcs per size/color as minimum. Qty not meets results pattern, size grading & size set sampling charges.
Print minimum: 500pcs per print screen for single colour chest prints & 300kgs for AOP (single colour). Qty not meets will results screen charges & high print costs.
We have no hesitation in doing even 25, 50, 75, 100 pcs if it meets the following standard. In a group of buys, suppose if 75% of their order meets above minimum measure, we accept the rest of their 25% of orders with least qty per style, but it will have its appropriate up charges.
Sorry to say, at present we are unable to serve the start ups who come up with only lesser quantity, like all styles will have 20pcs or 25 pcs (with 4 to 5 sizes) and they want likewise qtys for 10 to 50 styles.
Key strength
Quite Knowledge in this industry
Best & swift communication
Fair pricing
Best lead time and on-time delivery
Quality products
Skilled labours
Social Responsibilities
We promote environmentally and socially sustainable manufacturing practices and pay our workers fairly. Be an independent emerging designer or a small start up clothing line or a growing business, with a range of expert services SMS KNITS is your perfect made to order clothing manufacturing partner and we are here to help you as one-stop service provider.